Blue Hawai'i
Hang on for a minute...we're trying to find some more stories you might like.
The memories of immigration run deep through our society. How many of us have actually crossed an ocean by boat? Dug our fingernails into the moist soil of cultivated land? Swung a sickle into a strand of sugarcane protruding out of the Earth?
Family portraits, working men and women painted in multiple shades of blue, are just some of the images that were the result of painter Laura Kina's journey into her ancestral past.
This collection of blue-hued Japanese based paintings is featured in Kina's traveling exhibit, "Blue Hawai'i," which had its opening reception in Hepburn hall's Lemmerman gallery on January 27th. The show will remain up until March 3rd.
Hosted by professor and Gallery Director, Midori Yoshimoto, the exhibit was glowing under perfectly under spotlights.
"Her [Kina's] art really opened my eyes to [the] underrepresented history of Japanese immigrants," said Yoshimoto.
The show will move across galleries in the United States—Japanese American National Museum in Los Angeles and California State Polytechnic University in Pomona—to show the drastic changes of Kina's family as well as Japanese workers, before, during, and after World War II.
"I went on a trip with my dad to a sugarcane plantation in Hawaii. I met many older hardworking women who had given me oral histories about their pasts. I started to piece together the story of those living on the sugarcane plantations," said Kina as she looked about her exhibit, her fingers loosening hold of a cup with dark colored liquid.
"I had found out that we still had family in Okinawa, Japan. I met my family in Okinawa and it was just so incredible to reunite with them," she said. "These paintings are about reclaiming memory. The blue trauma, the ghosts, [the] tragedy. It's terrible to quickly forget. Reclaiming memory is how you find out about your past."
The reception was beautifully arranged with family portraits that exposed the truth of her family—both traditionalized and Americanized. Kina captured the feeling of loss and nostalgia all at once simply be reaching a connection—the color blue that sailed across the paintings.
"I hope they [students] can get inspired by artists like Kina, who turned her history into a universal message," Yoshimoto said.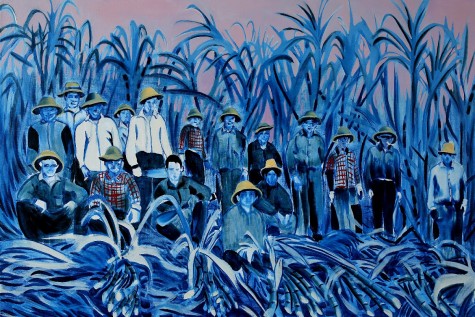 Photo credit: Laura Kina
In her work, Kina shows us the transitional struggle of Japanese men and women throughout the past. They can be seen as ghosts and many of the figures are represented by hardly having detail and having drips that represent tragedy.
"The painting "Issei" is what started it all. I painted "Issei" which means "Grandmother" in Japanese, in 2009. She has just passed away and developed a need to try and find out more about her. And so I traveled and asked family members to tell me more stories of her."
Kina perfects the idea of mining for history in one's own backyard. Kina also believes that the distance that many people find themselves at today from their own history is what should inspire them to learn more.
"Kibi Nisei—melancholia is what I was attracted to and inspired by," she said. "It was a journey I needed to go on."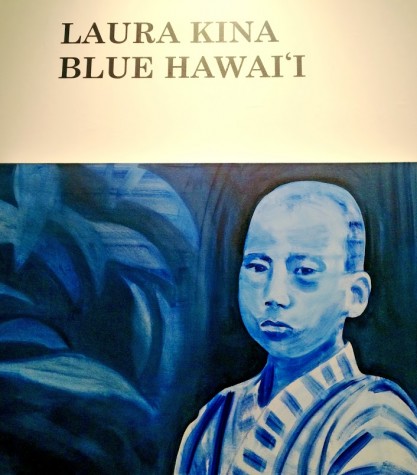 Photo credit: Laura Kina